Hey Y'all.
I have several girls I talk to on a regular basis that are in high school or about to start. They always come to me when they are in a bind, and I try to talk it out with them. I don't mind at all listening to anything they have to say, but it made me realize one thing.. how much I DO NOT miss high school.
High school is portrayed to be these amazing 4 years where you will find love, make awesome friends, do whatever you want… etc. But that is not the case.
I was told high school would be the best 4 years of my life from multiple people, so when I arrived the first day of my freshman year… (10 years ago.. holy geez!)  I remember thinking.. "Um this is going to be the worst 4 years of my life" One of the first things I remember on my first day was, I was walking down the hall and out of the blue I saw a bearded man with a backpack walking down on the other side of the hall. I nearly flipped… this dude looked 30 compared to my little 14 year old self… so I was intimated from the start.
I came up with a list of tips and honestly MUST DOS in order to survive high school and still make it enjoyable for GIRLS AND BOYS!
1. Don't fool around your first year.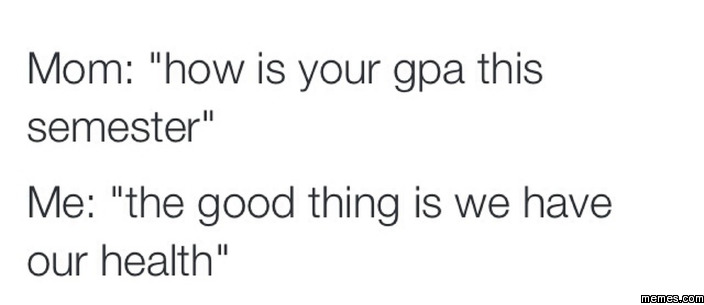 Seeing that meme, literally made me laugh out loud, but on a serious note, yes you have 4 years until graduation but if you don't start getting serious about your grades now, pulling up a GPA is hard work. Everything you do in high school is your foundation of your future… especially if you are planning on going to college. Study hard. This is nothing like middle school. High school is the first baby step of being an adult… I hate that there is that pressure on you being so young; however, it is the truth and you need to start thinking of your future now.
2. Get involved. Any way! I was in many clubs, choir, track, even in the band (band is not geeky in high school– they literally make the football games amazing!) Then I joined the colorguard (flag-line). There is the yearbook committee, foreign language club, drama, band, sports, art club?, choir.. choose something. You will be like a small ant if you don't. You meet several more people at different ages, genders, etc. It will be good for you. Promise!
3. Accept advice. This is a hard one, from what I remember being 14-18– I thought I knew everything. I didn't listen to anyone but my friends who were also 14-18 years old.. that is odd logic? Your parents know more than you think. And we aren't telling you all this to control you. We have been where you are before, and to be honest, everyone can use help in high school. It is okay to accept advice… that doesn't mean you are helpless or naive… it is actually naive NOT to accept it.
4. TO AVOID DRAMA!! I failed at this so many times, I literally remembering writing this down on my mirror so I can remind myself every morning. Do not talk about someone over technology.. Just do NOT do it. You may be able to delete it from your device but it can ALWAYS be brought up… and unlike verbal backstabbing– you can't deny what you said when it is written plain and clear in text.
5. TO AVOID DRAMA!! You are going to be stuck with these people for 4 years… you will have the same classes, same halls to walk down, same cafeteria. Be smart with what you say about them.
No one is perfect.. not even you. People make mistakes.. people handle situations differently than you do, but that doesn't make them the enemy.
If someone upsets you, don't talk about them. I promise you, I promise you, I promise you… it will come back to bite you.
6. If you are stuck in drama, because let's face it– you will always be pulled in.. don't think everyone hates you.. because let's be realistic… not EVERYONE hates you. I am sure your pet still loves you.. and I don't hate you so there's two beings that don't hate you. 😉
A good skill to use is Check The Facts. Write down exactly what is going on.. then start separating it out..
First write down exactly what is going on.. for instance,
Bob, Cindy, and Susan aren't talking to me.. when I walked by them, they stopped talking and I KNEW they were talking about me. No one likes me, I don't understand what I did. I will never have anymore friends..
Now let's separate each sentence out and realistically think about each statement.
FACT: Bob, Cindy, and Susan aren't talking to you.. we are prove that..
FACT: I guess you could prove they stopped talking when you arrived.
INTERPRETATION: You don't HONESTLY know they were talking about you when they stopped.. they could have just been shocked to see you or something and stopped… maybe they were talking about someone else and didn't want you to hear.. maybe they are planning a surprise party.. you'll never truly know unless you ask, and even then they may deny it, so let's keep that as interpretation.
INTERPRETATION: No one likes me.. that is a vague statement and deep down– realistically you know this can't be true. I like you.. so bam. Not everyone hates you. That is your opinion and you need to be aware of that.
INTERPRETATION: I will never have anymore friends. One thing I learned about high school, no one stays mad for very long.. give them a few days or weeks and it'll be like nothing happened. And you will have more friends. You will meet more people. So the above statement isn't a fact.
7. Learn from your mistakes. If you trusted someone with a secret and they told it… yeah sure forgive them. But make a mental OR an actual note not to tell them secrets. Some people just can't keep juicy details to themselves. Just learn from that and move on.
8. Sex does not mean love. This is a big one. If you guys know me- I remained a virgin all through high school and college until I got married at 22. I had many guys come up to me wanting to date, and after I told them– I am saving myself– a week later, it's like they fell off the Earth. I slowly learned that as soon as I shared that– they left. Just shows you what is really on these dudes mind. And then I had some that I dated, that thought if I dated them long enough, I would "drop my morals"… ha.. were they wrong. They then cheated or broke up with me.. that leads to number 9.
9. You either break up or get married. NOTHING else. Do you honestly think some people want to find their soul mate at 14-18? I wasn't planning on it. I met my husband at 17.. he was 23… yes… I know.. huge difference back then. However, he was a virgin and wanted to wait as well (he was not a Christian at the time.. so you do NOT have to be religious to have morals…) Even though we dated 5 years before we were married, does not mean a darn thing.
10. Start developing habits that will help you in the future. Waiting the night before to open your book before a test or before homework is due… ehh? I wouldn't advice it. Yes it is possible to wait the last minute in high school, but what you are doing is teaching yourself how to procrastinate, and that is one of the hardest habits to break.. I would know.
11. Be honest with yourself. Don't lose your innocence. Do you really want to go to prom, or is it because everyone else is begging you? Should you go to that drunk party? I never drank NOT ONCE in high school and NOT ONCE while I was an undergrad in college. I have a rocky past with that and I know what it can do to you.
Hints- a hangover is your brain pulling against your skull because of dehydration.. your brain is literally strinking. According to the study findings, the more alcohol consumed, the smaller the brain volume.. that explains a lot for most of the people I know 🙂
If you truly don't want to do something… why do it? Because you'd be cool? You'll get the girl? Well.. after those 4 years… everyone will go their own ways and you are left with what you did.
When I got to college, and people saw me in bars or clubs with a water, they always asked why didn't I drink? Main reason is my family past, but what I told them (which is also true) I don't like to conform.. I like to be different and to be honest, I don't see a need for it. I am not that boring to need a drink to loosen up. Then they saw my purity ring, they were all amazed how I kept my innocence with sex and alcohol and drugs. I actually got MORE attention. Remember that. Most people are attracted to different… it just depends what crowd you put yourself.
12. In high school, you are limited to the people you can be friends with, that is why you need to try your best to have at least 1 or 2 that have the same values and morals as you. Like the saying, hang out with a pack of wolves, and you become one.. or something like that.. But anyways.. who you hang out with is how people will also identify you.
Welp, that's all I have at this time. Surviving high school or teen years period is not a piece of cake. It's hard work. I am proud of you guys for pushing through it. Just remember nothing can stay bad forever. And remember this meme that I look at daily and laugh at because it holds so much honesty.
Until next time, Kels